Hurricane Irma: Puerto Rico braces for powerful storm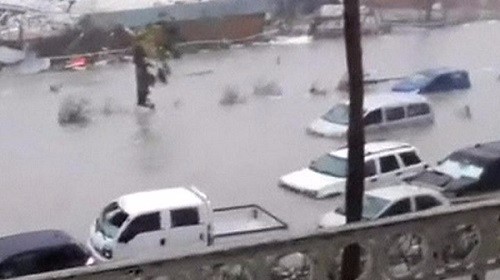 Gales and flooded cars in Saint MartinPuerto Rico is bracing for Hurricane Irma after the powerful storm caused at least seven deaths and left widespread destruction in the Caribbean.The small island of Barbuda is said to be "barely habitable" while there were warnings of a "cruel" impact on French territories St Martin and St Barts.Emergency efforts are being hampered by difficult access and communication with the hardest-hit areas.Meanwhile, two other storms have strengthened to become hurricanes.Irma, a category five hurricane, the highest possible level, is currently moving from the northern Virgin Islands, the US National Hurricane Center said.The most powerful storm in a decade had wind speeds of 295km/h (185mph) and was expected to pass just north of Puerto Rico, then near or just north of the coast of the Dominican Republic on Thursday.In Puerto Rico, Irma was already causing heavy downpours and strong winds.Many residents have rushed to shops for water, food and other supplies, despite warnings to remain indoors. Officials have said that power could be cut off for several days.

Hurricane Irma: All you need to know
The world's most powerful storms
Please feel free to give your inquiry in the form below.