Diego Maradona backs video referees despite 'Hand of God' goal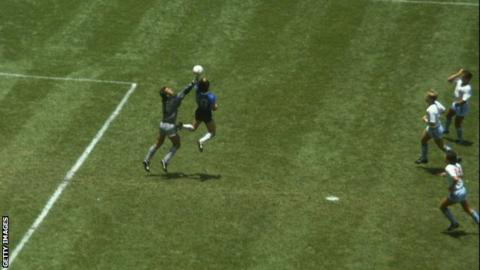 Maradona leaps above Peter Shilton and into infamy during the 1986 World Cup quarter-final at the Azteca Stadium
Diego Maradona has backed the use of video assistant referees (VARs) despite accepting his infamous 'Hand of God' goal would not have stood had the technology existed in 1986.
Maradona used his hand to score against England in Argentina's 2-1 win in the World Cup quarter-finals 31 years ago.
"Obviously I think about it whenever I show my support for the use of technology," Maradona told Fifa.com.
"I thought about it and, sure, that goal wouldn't have stood."
Maradona admitted he benefited from the lack of technology at a World Cup not once, but twice.
"I'll tell you something else - at the 1990 World Cup I used my hand to clear the ball off the line [in a group game] against the Soviet Union," he said.
"We were lucky because the referee didn't see it. You couldn't use technology back then, but it's a different story today."
The 56-year-old added Geoff Hurst's controversial goal for England in the 1966 World Cup final would also have been ruled out had VARs been available.
Please feel free to give your inquiry in the form below.